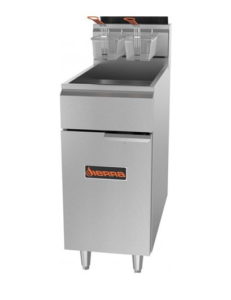 Sierra Range Gas Fryers
Sierra all-purpose fryers feature outstanding reliability and durability, capable of cooking a wide variety of fried foods with consistent uniformity and great taste.
Highly efficient cast iron burners and stainless steel tubes create a large heat transfer area for even heat distribution. Our durable temperature probes sense temperature changes and activate a quick burner response.
Extra depth for frying larger products. Ample cool zone avoids trapped food.
Click Here for Model SRF-25-25 Spec Sheet
Click here for Model SRF-35/40 Spec Sheet
Click Here for Model SRF-40/50 Spec Sheet
Click Here for Model SRF-75/80 Spec Sheet
Call us for a quote today!