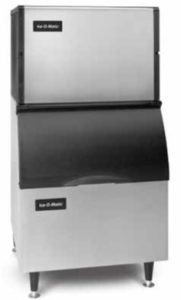 Ice-O-Matic Ice Makers: Pure Ice® exclusively by Ice-O-Matic.
Built-in antimicrobial protection for the life of the ice maker inhibits bacteria growth on ice maker surfaces.
Harvest Assist: Exclusive Ice-O-Matic feature provides consistent ice production for the life of the ice maker while reducing energy consumption and increasing capacity
3 Year Parts and Labor Warranty, and 5 Year Parts Warranty on Compressor and Evaporator. Purchase an Ice-O-Matic water filter with your ice maker, replace the filter every six months, and the evaporator warranty is extended to 7 years parts and labor
Manufactured in Denver, Colorado!
The ICE 250 is a 30″ model that will fit on top of 30″ wide fountain dispensers or ice bins. An adapter may be required to fit with the fountain dispenser. The ICE 250 will produce up to 361 lbs of ice per 24 hours.
Other 30″ wide ice maker models: